Today, Acrosser Technology announced its fan-less ISA Half-Size single-board computer, AMB-VDX3H1, based upon the ultra-low-power Vortex86DX3 processor with wired networking capability.
Acrosser AMB-VDX3H1 is a fan-less ISA Half-Size SBC with PC/104 & ISA Interface featuring the latest generation DM&P® Vortex86DX3® SOC processor with Onboard DDR3 512MB to 1GB SDRAM and 1 xRJ45 10/100 Mbps LAN.
The AMB-VDX3H1 offers full and legacy ISA bus following PC/104 2.6 specifications, and supports IDE, SATA, and CF card storage. The SBC is equipped with VGA(DB15) along with 4 USB 2.0 ports, two RS-232/422/485 serial ports, and two RS232 serial ports. There's also 1 PS/2 port, 1 JST connector, 1 PC/104 Expansion Slot, and 1 ISA golden finger.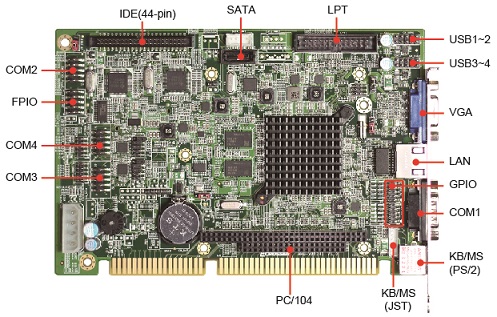 Specifications for the AMB-VDX3H1 include:
• Onboard DM&P Vortex86DX3 800MHz 1GHz dual core
• Onboard 1GB DDR3 SDRAM
• PC/104 & ISA Interface
• 4 x COM, 4 x USB 2.0, VGA, 1 xRJ45 10/100 Mbps LAN
• IDE, CF, SATA storage.
• Operating Temp. 0~60oC (32 ~140oF)
Acrosser AMB-VDX3H1 is a fan-less, small size, low power, rugged-design single-board computer which is the best solution for embedded systems in industrial control, industrial automation, factory automation, transportation, Mil/COTS, telecommunication, instrumentation, CNC machines, MMI, HMI(Human Machine Interface), CTI (Computer Telephony Integration), DVR (Digital Video Recorder), machine tools applications.
For more information about AMB-VDX3H1. please go to our online inquiry sysyem:https://www.acrosser.com/en/Contact/Inquiry
Subscribe to our social media sites and stay connected!
Please visit us @ the following social media sites:
Acrosser Facebook
Acrosser Twitter
Acrosser Youtube
#Network Application,#Rackmount server,#UTM appliance,#industrial pc,#industrial automation,#single board computer,#COM Express,#PC/104,#Industrial motherboard,#industrial embedded motherboard,#bus pc,#Can Bus #in car computer system,#Network security applications