AIV-C622V1, the most advanced autonomous vehicle server in the market, supports Intel 2nd Gen. Xeon scalable processor. Unlike Coffee Lake or Coffee Lake Refresh platform has its own limitation, the Intel 2nd Gen. Xeon scalable series of CPU is truly server-grade, and the core count range is 6 to 28. The autonomous driving developer can choose the proper one that fits the demand or develop more efficient programs that can utilize more core of CPU.
Beside build-in a powerful server-class CPU, Acorsser AIV-C622V1 also has a much more balanced design and structure in 5 aspects.

1. Memory: AIV-C622V1 Supports 6 x Registered-DIMM server-class memories and the maximum capacity is 384GB (DDR4-2933) which is better than other competitors.

2. Expansion capacity: AIV-C622V1 built-in Intel 2nd Gen Xeon Scalable Processor can support a total of 48 PCIe lanes. Other than x8 PCIe lanes for Uplink that is a dedicated data channel for all the LAN ports which connect to PCH. The CPU still can support three PCIe x16 slots. By adding a PCIe switch, this platform can support 4x USB 3.1 Gen2 ports. All the devices connected to the CPU can run to the Maximum bandwidth of its spec without compromise except 3rd graphic card which is located in the x8 PCIe slot. Otherwise, AIV-C622V1 obviously has more abundant support of USB ports. AIV-C622V1 has built-in as many as 8x USB 3.1 Gen1 for 5 Gigabit and also 4xUSB 3.1 Gen2 for 10 Gigabit, without a doubt, AIV-C622V1 has excellent expansion ability.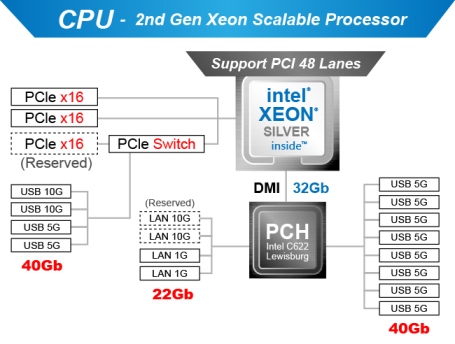 3. Storage access ability: AIV-C622V1 supports 4x 2.5" SSD and each SSD in AIV-C622V1 can be swapped easily. Furthermore, the whole SSD module can be swappable as well. This special design will be of benefit to all of the users to replace 4 x refresh SSD in a couple of seconds. In addition, this SSD module can be an external mobile SSD that connects to a storage server for uploading data. This design can prevent the potential risk of damaging the connector of SSD from repetitive plugging in and out and ruin the valuable data in the SSD. The autonomous driving developer can remove that SSD which is full of valuable learning raw data from the server in the car and replace it with a fresh SSD for another trip immediately. The SSD with data can be downloaded in the headquarters without dragging the autonomous vehicles for data collecting.

4. LAN Connection: AIV-C622V1 reserved 2 x 10GbE features that can provide better Networking capability. However, AIV-C622V1 can download the data from two GbE LAN ports and two 10Gigabit Ethernet LAN ports as well. These two 10Gigabit Ethernet ports will be ready in the near future. This function helps autonomous driving developers to reduce the time of uploading data dramatically.

5. Server management: AIV-C622V1 came with IPMI OOB Management for In-Vehicle Server. With this software, technical staff can realize remote server management in this vehicle server by 4G connection. Within this function, a remote administrator can monitor and manage the vehicle server via OOB management. In addition, via a 4G connection, a remote administrator can use the browser in the smartphone to check status or even power on/off the vehicle server which is on the road. The 4G smartphones connect to a laptop in the vehicle and this laptop links a LAN line to the management port of the vehicle server. This connection can empower the administrator to do all the management of IPMI 2.0, which is the standard management of the server.
Today, powerful computing power, excellent connecting ability, and stable long-time working stamina are all matter to autonomous vehicles adaptors because autonomous vehicle server needs to store, process, and analyze huge data all the time. Acrosser Technology leveraged its years' experience in developing network appliance and in-vehicle computers to extend to autonomous vehicle computer systems. This brand new AIV-C622V1 autonomous vehicle server built-in true server-class CUP and registered-DIMM server-class memory, combined with brilliant expansions deployment, swappable SSD module, and powerful IPMI OOB Management function, the AIV-C622V1 autonomous vehicle server definitely will be your first choice for your autonomous vehicle server technology development and HD map creations.
Generally speaking, AIV-C622V1 is perfect for being Automated driving systems, vehicle controllers, vehicle servers, autonomous computers, autonomous vehicles, autonomous cars, self-driving cars, self-driving vehicles