Acrosser has announced a new 2U rackmount edge network appliance named ANR-C621A1. This appliance is powered by dual Intel 3rd Gen Xeon Scalable Processors (Intel code name "Ice Lake-SP"). The processors from Intel are optimized for cloud, enterprise, HPC, network, security, and IoT workloads, with up to 40 powerful cores and a wide range of frequency, feature, and power levels. The ANR-C621A1 is infused with Intel Crypto Acceleration, which enhances data protection and privacy by increasing the performance of encryption-intensive workloads including SSL web serving, 5G infrastructure, and VPN/firewalls while reducing the performance impact of pervasive encryption. The ANR-C621A1 is also fueled by Intel SGX, which protects data and application code while in use from the edge to the data center and multi-tenant public cloud, making it an ideal product for UTM, SD-WAN, 5G MEC, and IT/OT Cybersecurity.
The ANR-C621A1 provides up to 16 DDR4 RDIMM channels and has a maximum memory capacity of 512 GB with error-correcting code (ECC), which protects against undetected data corruption, reduces crashes, and boosts system performance for cybersecurity applications. To make expansion network slots easy, the ANR-C621A1 provides 8 high-speed networking interfaces module(NIM), including 8 copper 1GbE LAN ports, 8 SFP+ Fiber 10 GbE LAN ports, and up to 66 LAN ports. It also provides 1 PCIe[x16] expansion slot for an add-in riser card, accelerating the deployment of networking security, UTM, and uCPE scenarios.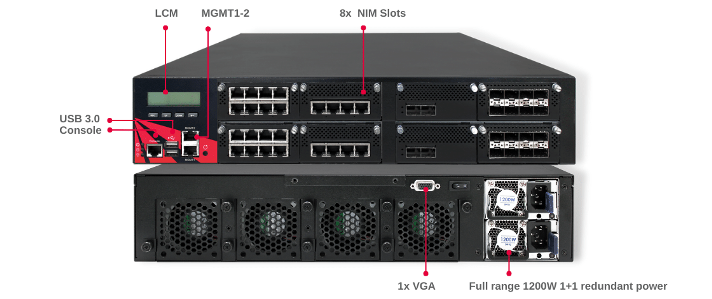 "The uCPE enables the use of a single platform for various functions, including routing, VPN, firewall, IPS/IDS, SD-WAN, UTM and IT/OT cybersecurity. Acrosser's ANR-C621A1 is an ideal NFV-ready uCPE solution that offers faster and easier service provisioning, centralized control, and improved flexibility with software-defined security," said Alan Chou, Head of Product Planning Division.
The ANR-C621A1 provides 1 x RJ-45 console, 1 x IPMI slot, and 1 x LCM with keypad, enabling operators to easily access the appliance for system configuration. It also provides 2 x 2.5" SATA type SSD/HDD for data backup, full range 1200W 1+1 redundant power supply design, and is equipped with Trusted Platform Module 2.0 for hardware-based data encryption to enhance data protection. The ANR-C621A1 delivers a perfect mixture of performance, flexibility, and security for cloud-scale computing, AI, 5G networks, HPC workloads, and multi-access edge computing (MEC) applications.
ANR-C621A1 important features:
1. Support Dual 3rd Gen Intel® Xeon® Scalable Processors (Intel IceLake-SP)
2. Support 16x DDR4 RDIMM, Max. 512GB
3. Support 8x NIM modules
4. 1x PCI-E x16 expansion slot(Optional )
5. IPMI 2.0 module(Optional )
6. 1200-Watt 1+1 redundant power supply
Acrosser Technology provides industry-leading solutions with 30+ years of experience from supplying field-proven standard products to OEM/ODM services. Customers can always find the best solutions from the wide range of products offered by Acrosser Technology to meet their exact application, shorten the time to market by reducing the development time, and accelerate the deployment process.
For more information about ANR-C621A1, please go to our online inquiry system: https://www.acrosser.com/en/Contact/Inquiry