AIV-APL1V1FL, this powerful in-vehicle computer equipped with Intel Apollo lake SoC chipset and supported up to 8GB DDR3L 1866 MHz SO-DIMM memory. AIV-APL1V1FL had built-in various car computing and communication technologies such as WiFi, Bluetooth, CAN-Bus, vehicle power management, and 3G/4G can provide powerful communication ability to different scenarios. Moreover, AIV-APL1V1FL also equipped 2 x swappable 2.5" HDD bay which can provide massive data saving and processing during communication.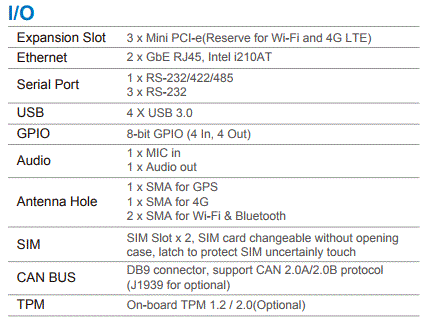 What is Fleet management?
Fleet management is the process of managing and optimizing a company's vehicle fleet, which can include cars, trucks, vans, and other types of vehicles. The primary goal of fleet management is to ensure that vehicles are being used efficiently and effectively, while also reducing costs and improving safety.

Fleet management typically involves a range of activities, such as vehicle acquisition, maintenance and repair, fuel management, driver management, and compliance with regulations. Companies may use various tools and technologies to manage their fleets, such as GPS tracking systems, telematics, and fleet management software.

Effective fleet management can lead to a range of benefits, including increased productivity, reduced fuel and maintenance costs, improved safety, and better customer service. By optimizing their vehicle fleets, companies can improve their bottom line and gain a competitive edge in their industry.